May 05, 2016 02:33 AM
Radeon Software Crimson Edition 16.5.1 Highlights

Support for:
Forza Motorsport 6: Apex™
May 04, 2016 08:54 PM
"Film & games don't always play nice with each other," EA DICE's Niklas Fegraeus told Gamasutra. "Games require balance & fairness to be fun, but a film does away with that in order to create drama." ...
May 04, 2016 08:37 PM
The studio responsible for Egg Baby is looking to hire an experienced game designer to take a lead role on the creative team in Nix Hydra's Los Angeles, CA studio. ...
May 04, 2016 08:09 PM
Few games foster emergent storytelling better than Crusader Kings II, and Paradox's Henrik Fåhraeus explains how the game was designed to do just at (and how you can do it too) in this GDC 2014 talk. ...
May 04, 2016 08:05 PM
Zygna's new CEO presides over improved numbers in his first quarter at the tiller, as the company aims to get itself repositioned as a reliable mobile game operator. ...
May 04, 2016 07:43 PM
"The VR revolution that's happening now...if you tried to make it work with the UWP system present, it would never happen." Epic's cofounder said in a new round of UWP criticism at the GamesBeat Summit. ...
May 04, 2016 06:33 PM
OutOfTheBit is working on a different sort of football [aka soccer, yanks!] game. "FIFA is great, but I realize that there is probably space in the market for a fun and easy to pick up football game." ...
May 04, 2016 06:14 PM
"We had the expectation of the first five years of VR are going to be madness," CCP Games CEO Hilmar Pétursson told Polygon. "It's going to take five years from this year to sort itself out." ...
by noreply@blogger.com (Sande Chen) at May 04, 2016 06:00 PM
In this video, game writer/designers Leah Miller, Cohen Edenfield, James Pianka, Sande Chen, John Ryan, and Nicole Kline share stories from the frontlines of game development.

Did you miss the PAX East panel, Adventures in Game Writing?


Adventures in Game Writing Panelists
Adventures in Game WritingPAX East, April 22, 2016
Ever wonder what it's like to write for games? Join us for a conversation about the methods and philosophies of writing and narrative design. Our eclectic group of panelists have worked on giant AAA titles like Destiny, The Witcher, and the indiest of tabletop games, in roles that include everything from Lead Writer to Customer Service Representative. We'll talk about the realities of the industry today and speculate wildly about the future of storytelling.
PANELISTS:
Leah Miller [Writer and Designer, Independent]
Cohen Edenfield [Lead Writer, What Pumpkin?]
James Pianka [Narrative Designer, Firefly Games]
Sande Chen [Writer and Designer, Independent]
John Ryan [Writer and Narrative Designer, Independent]
Nicole Kline [Game Designer, Cardboard Fortress Games]
I found this recording from
Blackman 'N Robin
and if you know of other podcasts or recordings of the panel, let me know! This video had some technical issues and got cut off, and I think maybe my microphone wasn't working. O
h no!



by Mike@gamefromscratch.com at May 04, 2016 05:57 PM
Substance Designer (and companion to Substance Painter covered in this video) is a tool that enables artists to define complex shaders for PBR (Physically Based Rendering) and
is fast becoming the weapon of choice for texture artists everywhere. They just released Substance Designer 5.4, available for download on their servers now or available next Monday on Steam.
Release 5.4 brings the following new features:
added a link to Substance Store
Support For HighDPI screens
Enabled re-ordering of tabs
export render to ArtStation
added default shader to shader list
display resource names on top of bitmap nodes
improved listing order of space bar search menu
new baker "position from mesh"
new normal map setting "Tangent" and "Binormal" in World Space Normal baker
enabled execution of scripts during the save, export and publish actions
added a collapse/expand option based on selection in dependencies
added a warning regarded shell extension conflicts
Bug Fix – crash on exit
Bug Fix – designer process still running after exit
Bug Fix – Iray outputs are not sent to mdl materials when switching renderers
Bug Fix – Tile sampler: pattern rotation random should not rotate the shape
May 04, 2016 04:59 PM
"I'm not advocating everyone to use BSP/CSG. I am advocating everyone to critically look at their editors & tools, and see how they can improve from a UX & UI perspective." ...
May 04, 2016 04:51 PM
Electronic Arts announced today that it has cut a deal with Titanfall developer Respawn Entertainment that will see the studio building a new third-person "action adventure game" bearing the Star Wars brand. ...
May 04, 2016 04:09 PM
"While none of these design decisions are groundbreaking, thanks to a wise balancing Rogue Legacy successfully manages to reshape a design issue or limitation into a gameplay element." ...
May 04, 2016 03:32 PM
"Showing a VR game at PAX was wonderful, and I haven't laughed so hard in a very long time. Hopefully if you're planning to do the same, you can use some of this advice to bypass the hurdles." ...
May 04, 2016 02:39 PM
"While today's figures demonstrate Game Tax Relief's continued and greatly-needed boost to the UK games industry, there is still more to be done." ...
by Mike@gamefromscratch.com at May 04, 2016 02:31 PM
Mixamo is a great animation resource, that enables you to quickly (and currently freely) add animations to your 3D models. However, if you want to incorporate the results into your Blender workflow, it can be a bit non-intuitive. The Mixamo documentation recommend using Collada, which simply does not work well. There instructions also skip completely the process of actually using the resulting animations... a rather key component. The following workflow is perhaps the easiest with the best results.
First off, when exporting your animations from Mixamo, use the following settings:
This will result in a zip file containing your model, as well as several animations, like so:
If you haven't already, load Blender. Next go to File->Import->FBX. The next part is critical, in the Import FBX settings select Manual Orientation and Apply Transform
Your model and it's armature should now load fine, with full proper textures showing up. I suggest you rename your armature something meaningful, as each animation is going to come in with the same name (Armature, Armature.001, etc.).
Next do the import again, with the exact same settings, this time bring in one of your animations. If you only need to wire up a single animation, you are nearly done. Just bring up the DopeSheet, switch to Action Editor
You can now toggle between any animation available in the Blend file:
Keep in mind, I renamed my main character Timeline, then the walk animation armature was renamed Walk, etc...
If however you need to use multiple animations, or want to create a single timeline with all of the animations on it, you are now going to have to break out the NLA Editor. It is simply a matter of Add Action Strip to your main character, for each animation in the timeline, like so:
And, the end result:
I glossed over part of the process, but never fear... I also did a video!
May 04, 2016 01:17 PM
"By listing recently posted reviews more prominently and by defaulting to recent helpful reviews, Steam can now show a more current idea of what it's like to play the game now." ...
May 04, 2016 01:00 PM
"I like to think that every element in a game is always looking to find more and more reasons to exist. There's a fight for legitimacy of sorts." The same goes for its narrative. ...
May 04, 2016 11:22 AM
"Always do a thorough search before committing to a name, don't pick a game name which is identical to an existing name, but if you do, be prepared to fight your corner or potentially change your game name." ...
May 04, 2016 08:04 AM
"In this blog, I want to share some info that I thought was really interesting: Composer Laura Karpman's talk about 'Composing Virtually, Sounding Real' and audio director Garry Taylor's talk on 'Audio Mastering for Interactive Entertainment.'" ...
May 04, 2016 08:03 AM
The blinding speed of the Rollcage racing franchise left some players feeling disoriented or frustrated by unexpected crashes. Caged Element vowed to fix these issues in their spiritual successor GRIP. ...
May 04, 2016 12:01 AM
The mobile market is incredibly competitive -- and getting a leg up on the competition isn't easy. This might help. ...
by Mike@gamefromscratch.com at May 03, 2016 11:00 PM
A second preview release for Unreal Engine 4.12 has been released. Once again this is a preview release, so expect some bugs and instability. According to Epic:
This release comes with updates and new features for rendering, such as improved high quality reflections, an update for the Dual Coat shader model (to now specify a second normal map for the surface below the clearcoat layer) and support for realtime planar reflections.
There are of course several bug fixes in this release as well:
Fixed! UE-30024 Crash when connecting to Source Control
Fixed! UE-30110 Opening blueprint debugger crashes editor
Fixed! UE-29940 Crash during Garbage Collection in travel mode
Fixed! UE-29774 Crash scrubbing sequence after being recorded
Fixed! UE-30096 Compiling a Code project for Shipping or Test Fails
Fixed! UE-25715 Crash when changing a Play Node's "Sequence" to a Montage
Fixed! UE-29131 Particle effects can freeze before terminating
Fixed! UE-25215 Crash opening ConcurrencyBug level - FArchiveFileReaderGeneric::InternalPrecache()
Fixed! UE-29876 Character mesh is not visible in packaged third person project
Fixed! UE-30099 Translucent instanced static meshes drawing incorrectly with ISR on.
Fixed! UE-30087 Crash when dismissing multiple menus
Fixed! UE-30085 Loading Screens Play Before PreLoadMap Finishes
Fixed! UE-30084 UMG Fixed aspect ratio doesn't size right side correctly
Fixed! UE-30042 Changing the View Type folder options when importing an item Crashes the Editor
Fixed! UE-29988 Crash when converting custom curve to metadata in persona
Fixed! UE-30054 Transform text when dragging a component in a BP doesn't update until the drag finishes
Fixed! UE-29994 Materials have incorrect Default Material view
Fixed! UE-30030 ProtoStar Meteors Vanish on touch by User or Neutrino
Fixed! UE-29928 LaunchOn tvOS Fails on Windows.
Fixed! UE-30016 Color picker in cinematic viewport overlays menu does not close when deselected
Fixed! UE-29984 Pixel inspector crash when there is no GBufferE
Fixed! UE-29268 Metal is not enabled for project packaged from windows on iOS device
Fixed! UE-30008 Crash if manipulating a widget in UMG with no animation selected
Fixed! UE-30006 HQ ES3.1 DoF broken with Vulkan RHI
Fixed! UE-29319 Can not use material track with Widgets that use style
Fixed! UE-27735 Enumerators are not set correctly in packaged games if Nativize Blueprint Assets is set to true
Fixed! UE-29942 Selecting Cinematic Viewport does not enable the Cinematic Viewport
Fixed! UE-29934 Blueprint projects packaging and launch on failure for iOS and tvOS from Mac
Fixed! UE-28073 Actors animating as thumbnails redraw in sequencer
Fixed! UE-29938 Saved directories exist in SubwaySequencer sample in 4.12
Fixed! UE-30138 Add missing architectures for Android StripSymbols
You can download the preview release using the Epic Game Launcher.
May 03, 2016 09:37 PM
One of the most influential and beloved console franchises of the past decade has reached its final installment; this video breaks down the work of creator Hidetaka Miyazaki, who shepherded it. ...
May 03, 2016 08:49 PM
Neverwinter developer Cryptic Studios is looking for programmers of all types and levels to join the team at its Los Gatos, CA studio and work on developing massively multiplayer online games. ...
May 03, 2016 07:50 PM
"I call it 'roleplaying simulation.' It's a new genre," Fire Emblem's Shouzou Kaga said in a recently-translated 1990 chat. "I wanted to create a game where the player could get more emotionally invested." ...
May 03, 2016 06:57 PM
Heads up, devs: Domain name service provider Rightside aims to start selling .games domains later this year alongside its extant portfolio of top-level domains like .social and .news. ...
May 03, 2016 06:57 PM
We spoke to Riot Games about what developers can learn from their efforts building a collegiate League of Legends tournament. ...
May 03, 2016 06:37 PM
With work on the sequel continuing apace, take a minute to look back at this classic interview with the creative team behind Dishonored and learn about where (and why) the game's design took shape. ...
May 03, 2016 06:29 PM
Entertainment production company Skydance Media has shelled out an undisclosed sum to acquire The Workshop Entertainment and incorporate it into the newly-formed Skydance Interactive. ...
May 03, 2016 05:59 PM
Lexaloffle Games' PICO-8 "fantasy console" is going to get a physical, handheld version when it ships pre-installed (with a library of built-in games) on Next Thing's $49 PocketCHIP handheld computer. ...
May 03, 2016 05:46 PM
"The internet has made all kinds of content-news articles, music, photographs, and video-easily available for anyone in the world to access. However, that doesn't mean that it is free to take and use for your own purposes." ...
May 03, 2016 04:03 PM
"I wanted to have different character parts being randomized for a lot of variation. That is super simple and standard for characters that actually have good geometry to hide the seams (e.g.: clothes), but my creatures needed to be bare naked." ...
May 03, 2016 03:01 PM
From Dragon's Lair to Night Trap, to Her Story: What video in games has been used for and can be used for in the future. ...
May 03, 2016 02:53 PM
"The idea of delivering our DLC this way was greatly influenced by the goal of having a unified community." ...
by Mike@gamefromscratch.com at May 03, 2016 02:34 PM
Cocos Creator is a new game editor built over top of the Cocos2d-x JavaScript port. I did a hands on video with an earlier version of Cocos Creator if you are interested in learning more.
This release brings a number of new changes and features, including:
[Animation] Allow position.x and position.y properties can be added separately in an animation
Windows] Use new installer framework based on Squirrel.Windows. New version of Cocos Creator will be installed to %User/AppData/Local/CocosCreator, different version will be stored in sub folder named as app-x.x.x.
Dashboard] Dashboard stays in memory now. When open a project the Dashboard window will hide, and show up again when the project is closed. Added Systray icon for dashboard. You can open multiple project from Dashboard now.
JSB] Fixed newly created cc.SpriteFrame via url cannot be displayed when assigned to sprite issue.
Engine] We include cocos2d-x prebuilt library in installation so no more manually building for that.
Render] Add SpriteDistortion component for simulating a 3D ball rolling effect
Render] Add Circle mode for Mask component
Render] Fixed rotating a node with Mask will not display correctly issue.
Console] Optimized duplicated message into collapsed messages.
Animation] Fixed switching among multiple animation clip may cause timeline to lock up issue.
Animation] Fixed play animation direction error when wrapMode is set to Reverse
Animation] Fixed root node may jump to other position when updated sample issue.
Component] Fixed help button link on builtin components
Component] Add tooltip for Layout and EditBox components
Prefab] Fixed when reference a node from scene on a component attached to Prefab may cause duplicated node instantiated together with prefab issue.
Tiledmap] Fixed rotated tile in a tax file will not display correctly issue.
Build] emit a editor:build-finished message after a successful build process. So plugins can catch that and do modifications to the built project.
Build] Fixed iOS project templates may cause rejection when submitting to iTunes connect issue.
Editor] Make error message when requiring third party javascript library more clear.
Auto Update] Fixed when text is large in change log, the window will not display all content issue.
The full release announcement and download information is available here.
May 03, 2016 01:27 PM
Offworld Trading Company, an economic strategy game created by Civilization IV lead designer, Soren Johnson, has sold over 100,000 copies.  ...
May 03, 2016 12:18 PM
MUNICH, Germany. Officials at the Khronos Group consortium announced the availability of the OpenGL SC 2.0 specification for bringing programmable graphics to systems that require system safety certification such as commercial and military avio...
May 03, 2016 11:29 AM
"I create a free IBM Bluemix account. They have a dead simple text-to-speech API: make an HTTP request with basic HTTP authentication, get a WAV file back. Now I have a folder of WAV files." ...
May 03, 2016 08:01 AM
"The more I use it the more comfortable I get with it, and thus the more I use it. This increasing preference-for/reliance-on a single gun poses a couple problems from a game design standpoint." ...
May 03, 2016 08:00 AM
"There are a few things that we get from procedural generation: more emergence and unpredictability, as opposed to being a roller coaster for the player to only experience the things I wanted them to feel," says dev Adam Saltsman. ...
by Eric at May 03, 2016 01:40 AM
I asked what others did for benchmarking in my last post. Here are the replies on Twitter in a semi-coherent edited form. If I missed any replies, I blame Twitter, whose interface is a magical maze.
First there were some FPS vs. SPF comments:
Richard Mitton: If you're not measuring in milliseconds then you're doing it wrong.
Christer Ericson: Yes, ms, not FPS. FPS is not a linear unit for the artists (or anyone).
Marc Olano: FPS isn't linear. Usual definition of median averages middle 2 for even samples = also wrong. Use ms.
Morgan McGuire notes: FPS *is* a good measure if what you care about is interaction or visual smoothness. SPF is good for computational efficiency.
I replied to Richard & Christer: I'm interested in your reaction to the use of median vs. mean. FPS vs. SPF irrelevant for relative performance.
I also changed the original post to talk about milliseconds instead of frames, to avoid this facet of the discussion.
Christer Ericson: It's important to catch the spikes, so in the context you're talking about I would do max. Or mean+variance. Also, don't think I've ever, for profiling reasons, looked at any average. You always look at a specific frame.
Timothy Lottes: I'm personally only interested in worst case ms/frame.
Cass Everitt: Agree with those that concentrate on worst times.
Eric Haines: Right, it depends what you're looking for, e.g. don't drop below 60 FPS. I'm mostly warning against using mean.
I added a note to the original post about tracking the max, which makes sense if you're trying to guarantee a frame rate.
Tobias Berghoff, who benchmarks consoles:
I use min/max/med the most. Averages really only come into play when I need more digits. I spend significant amount of time below the 0.5% mark when wearing my platform tuning hat. I don't miss trying to get sensible numbers out of PC h/w. But this also comes into play when measuring very short processes. When something only takes a couple of microseconds, you often end up oscillating between states that make the distribution multi-modal. Median won't catch small shifts.
cupe: Stacked color-coded graph of nested timings (or a subtree of it). Usually unfiltered for analysis, avg for comparisons. Hierarchy is on the left, tooltip displays e.g. "scene/fluid/poisson", click to restrict. Horizontal lines are milliseconds, orange line is 16.6 ms.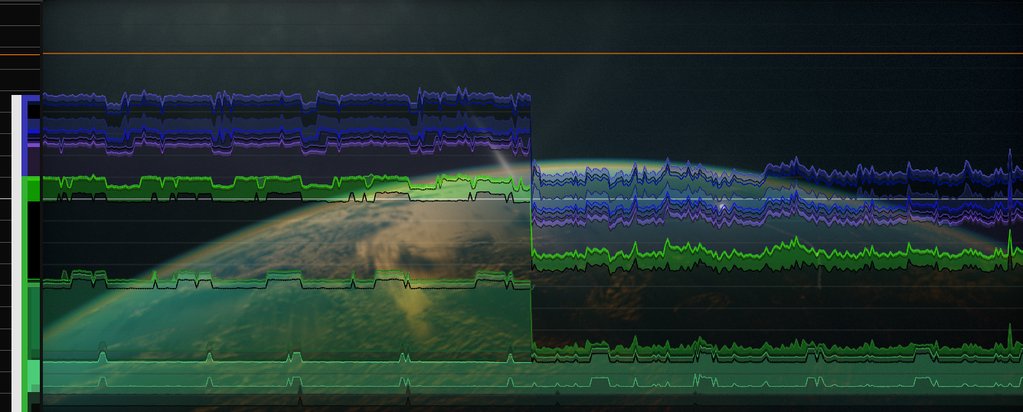 E.g. click the big violet bar to see only post (and zoom in to stretch 4ms to screen):

Javdev: We use a profiler, Adobe Scout, select multiple frames & see which code is most expensive & iterate it to prevent frame drops.
Björn Blissing: One option is to plot a histogram over the captured data. Reveals if your max/min are outliers or more common occurrences.
Michael Marcin: Try always running circular etwtrace and when frame time dips save and examine the trace.
Mikkel Gjoel: We filter in viewer. Options for all mentioned, and vsync (as that is what we are shipping).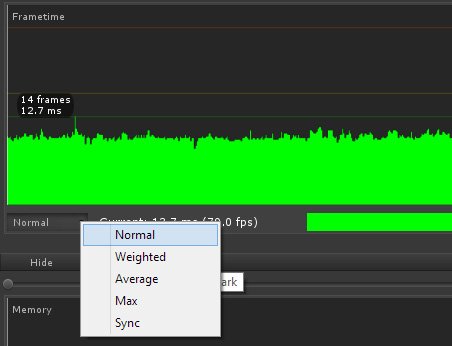 Fabian Giesen: General order statistics (percentiles etc.) are good. Just a plot of frame durations over frame # is helpful, too! And simply recording all frame durations over a few seconds, sorting them and plotting that is quite handy, too. That gives you all the percentiles (and median etc.) and gives you a feel for the shape of the distribution, which matters. (I'm not very happy with single-value summaries; they lose too much information.)
Jaume Sanchez Elias: I like Chrome FPS meter: current, min, max; over time; frequency graph for each framerate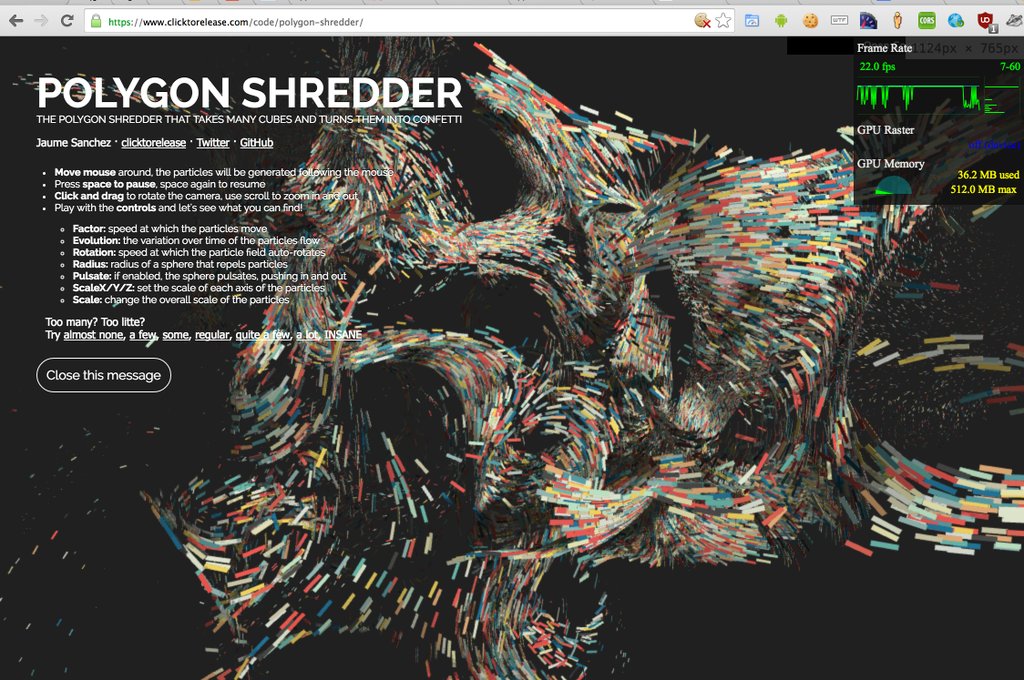 Krzysztof Narkowicz: Min, max, avg and std dev. Percentiles and med would make a nice addition, but it's a hassle to compute them.
Anton the Mighty: I always use the standard deviation or standard error and indicated what value n sample size is. Most gfx benchs=bad. It's usually worth also eyeballing actual data in detail because repeating patterns show either cycles or error in timers. Most recently there was something a friend had with the power manager in windows causing a cycling load on the cpu. I also visually check out timing for cpu+gpu functions across frames with apitrace etc. pretty neat.
All for now – feel free to email or tweet me with anything you want to add.
May 02, 2016 11:47 PM
The company pioneered downloadable independent games on the Xbox 360, and promoting them with the much-missed "Summer of Arcade" -- and now it's back with something new. ...
May 02, 2016 11:22 PM
The most popular games are still casual, but a flood of RPGs is crashing into the space, and it's going to change the lay of the land. ...
May 02, 2016 10:51 PM
The next step in VR adoption? A selected number of Best Buy stores will get Oculus Rift demo units (and units for purchase, too). A larger rollout is planned for later in the year. ...
May 02, 2016 10:42 PM
Straight from the mouth of Nintendo's president: "Next, about how we are looking at cost, we are not thinking of launching the hardware at a loss." What's the big deal? Explanation inside. ...
May 02, 2016 09:04 PM
President Tatsumi Kimishima goes up in front of his company's investors -- and despite their best efforts, remains cagey about the company's future, even in the near-term. ...
May 02, 2016 08:19 PM
"Not a lot of people design the same game for twenty years," said venerable Magic: The Gathering head designer Mark Rosewater in his GDC 2016 game design talk. "Not a lot of games last twenty years." ...
May 02, 2016 07:59 PM
"Consequences are a form of constraints, and contemporary players do not like constraints. They want to do whatever they want to do, as though they were on a playground or playing with toys." ...
May 02, 2016 07:52 PM
The Georgia-based branch of CCP Games, CCP Atlanta, is looking to hire a graphics programmer with VR/AR experience to work as part of a small team on VR projects. ...
May 02, 2016 07:40 PM
Demo video by John Whitney @ IBM, 1968 (!)


Rendered on IBM 2250

IBM still offers the programming manual[/ur...
May 02, 2016 07:33 PM
"Metroid isn't the only game to use this type of storytelling. Journey, Ico, Sword & Sworcery, and others tell their stories with very little text or cinematic sequences." ...
May 02, 2016 07:24 PM
"I would describe it as seeing the writing on the wall," cofounder Tim Sweeney tells Polygon in a new feature. "There was an increasing realization that the old model wasn't working anymore." ...
May 02, 2016 07:17 PM
In his talk at the Reboot Develop conference, Patrice Desilets discussed 30 words that he associates with creativity...and showed off some in-engine footage of his game 1666: Amsterdam ...
May 02, 2016 07:01 PM
"The consistent and weighted emphasis of the moral dichotomy of player choice in Dishonored becomes only reinforced, as our bodily interactions with the controller approach our assumptions of how we might expect the actions to feel." ...
May 02, 2016 06:20 PM
Infinity Ward's influential shooter debuted almost a decade ago. Now, read this classic postmortem the lead designer and technical art director wrote of it for Game Developer magazine. ...
May 02, 2016 06:01 PM
The European Research Council has awarded a € 2 million grant to noted game researcher Espen Aarseth to fund his five-year effort to "develop and quality-assure some basic concepts for game analysis." ...
May 02, 2016 05:55 PM
"Ensuring that VR demos are smooth now, in the early days, helps keep the public interested and excited in the future!" ...
May 02, 2016 05:22 PM
"Many were expecting the NX to launch toward the end of 2016, where it could capitalize on the commercial busyness of the fourth quarter. I'd argue that this move to 2017 could be a good thing." ...
May 02, 2016 05:05 PM
Game developers Teddy Diefenbach and Renaud Bedard announced today that they'll be joining Lara Croft Go studio Square Enix Montreal to embark on a new project. ...