February 27, 2015 12:40 AM
In this interview, we speak to Linvega and Bell about the creation of IGF Excellence in Visual Art finalist Oquonie and its cute but disquieting world. ...
February 26, 2015 10:34 PM
"Yesterday I started to create some pixel art mockups of how I think the game should look... And a funny thing happened. As I was doing it I realized I felt happy." ...
February 26, 2015 10:02 PM
The FCC has decided in a split vote to enact new rules that regulate the internet -- but service providers aren't happy about the decision and are expected to sue. ...
by Johann at February 26, 2015 09:38 PM
I've mentioned a number of most recently the TGCameraViewController which features nice visual effects and a great UI.
Here's an open source library called FastttCamera from IFTTT that makes it easier to work with the camera than AVFoundation, provides higher performance, adds a number of nice features for image processing and more.
Specifically some of FastttCamera's features include:
Adjustment based on orientation even if the lock is on
Adjusting of the camera's focus based on tap gestures
Full resolution photos
Cropping images to the camera's view
Processing high-resolution images quickly with minimal memory usage
Overall just works faster
An example project including a complete interface is included.
Here's an image showing FastttCamera in action:
You can find FastttCamera on Github here.
A nice library for working with the camera.
Original article: Open Source iOS Library Makes Workign With The Camera Easier And Adds A Number Of Nice Features
©2015 iOS App Dev Libraries, Controls, Tutorials, Examples and Tools. All Rights Reserved.
February 26, 2015 09:05 PM
Wargaming.net is seeking an AI software engineer to work on the company's current and upcoming projects alongside the team in its Chicago, Illinois studio. ...
February 26, 2015 08:35 PM
A team of researchers at Google DeepMind claims to have developed an articial agent capable of learning to play (from scratch) 49 different Atari 2600 games at skill levels comparable to human beings. ...
February 26, 2015 08:06 PM
"What makes this system so great isn't that it makes things harder, it is that it creates more choices with unclear answers: Questions that are interesting and meaningful to the people in the game world." ...
February 26, 2015 07:56 PM
Laralyn McWilliams muses on aging in the game industry:"I debated whether to say in public that I'm fifty years old, and what effect that might have on my career." ...
February 26, 2015 07:38 PM
In this classic postmortem, Camouflaj founder Ryan Payton explains what went right -- and wrong -- in the crowdfunding and development of the studio's debut stealth game République. ...
February 26, 2015 07:12 PM
After leaving EA late last year, PopCap Games co-founder John Vechey has taken the wraps off one of his new projects: Pluto VR, a VR/AR communications software startup. ...
February 26, 2015 06:36 PM
The New York City festival dedicated to celebrating games' positive social impact has announced its list of 2015 award nominees and its "Game Changer" award winner, Tracy Fullerton. ...
February 26, 2015 06:27 PM
"Perform your own game analysis. Analyze your own game against similar games today and yesteryear. How do they measure up? Define your own key metrics and the criteria you deem necessary for a successful game." ...
February 26, 2015 05:58 PM
Neil Young and the rest of the core Ngmoco team are back to games at N3TWORK. The San Francisco-based app developer has pivoted to games, and has a couple new titles in the works. We talk to Young. ...
February 26, 2015 05:12 PM
If you're interested in attending GDC 2015 and missed your chance to register online, don't worry! You can still register onsite next week. ...
February 26, 2015 04:07 PM
An in-depth analysis of an experiment in using different types of animated -- that is, moving -- cover in shooters. "Can we make the most efficient gameplay also the most engaging gameplay?" ...
February 26, 2015 03:15 PM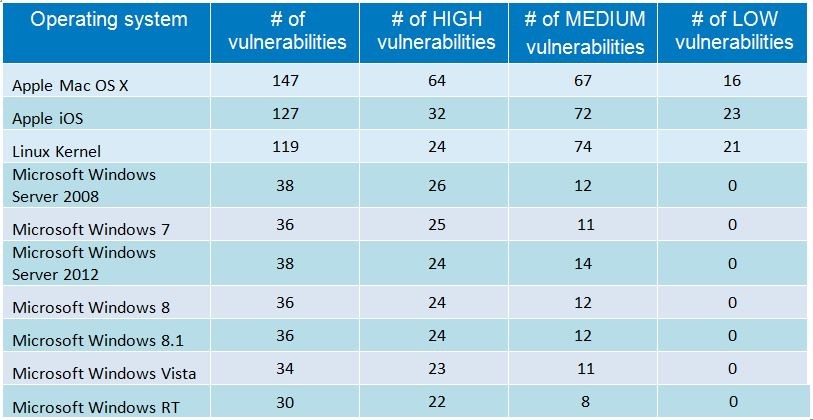 Link: http://www.gfi.com/blog/most-vulnerable-operating-systems-and-applications-in-2014/
February 26, 2015 03:02 PM
As everyone finalizes their GDC 2015 conference schedules, we'd like to take a moment to highlight some standout sessions that you should keep on your radar. ...
February 26, 2015 02:39 PM
Now, more than a year into the SteamOS era (measuring from that beta launch), the nascent Linux gaming community is cautiously optimistic about the promise of a viable PC gaming market that doesn't rely on a Microsoft OS. Despite technical and ...
February 26, 2015 12:00 PM
Wisdom earned from six years running an analytics company: "Here are some lessons learned from designing these A-B tests and interpreting the results." ...
February 26, 2015 09:04 AM
A guide to getting in with Sony, Microsoft, and Nintendo from a small indie studio that's been through the process -- "It's way easier to get on the respective platforms then it was some years ago." ...
February 26, 2015 09:03 AM
Level designers behind games such as Gone Home and Sunset Overdrive, and from studios such as Bethesda, Campo Santo, and Blendo Games answer questions about the craft of their discipline. ...
by Johann at February 26, 2015 07:35 AM
Last year I mentioned a component from Facebook called Shimmer allowing you to create a shimmering effect like that used for loading stats in the Facebook Paper app.
Here's an open source Swift component called Twinkle from Patrick Piemonte that could be used for the same purpose that allows you to easily apply a great twinkling effect to a view.
Here's an image from the readme showing off Twinkle:

You can find Twinkle on Github here.
Some nice eye candy that could be used for something different from the shimmer effect.
Original article: Open Source Swift Component Allowing You To Add A Neat Twinkling Effect To A UIView
©2015 iOS App Dev Libraries, Controls, Tutorials, Examples and Tools. All Rights Reserved.
February 25, 2015 09:38 PM
"Contract( ) generates free, plain-English agreements for and between game developers. It's based on the idea that developers do not need legalese to come to an agreement or to resolve a disagreement." ...
February 25, 2015 09:07 PM
The maker of Hearthstone is hiring a visual effects (VFX) production artist to develop new effects, from concept through implementation, at Blizzard's Irvine, CA headquarters. ...
February 25, 2015 08:47 PM
In this classic feature, design consultant Alexandre Mandryka examines what happens when game designers have no clear career path, and there's no culture in the studio that helps nurture them. ...
February 25, 2015 08:21 PM
The founding team includes notable Halfbrick talent, including Phil Larsen, Hugh Walters and Luke Muscat -- creator of Fruit Ninja and Jetpack Joyride. ...
by Johann at February 25, 2015 07:53 PM
Last year I mentioned a nice tutorial on dealing with common issues when moving from Objective-C to Swift another common issue occurs when using C libraries within your Swift code.
Here's a tutorial submitted by Atomic Object from Matt Behrens that demonstrates how to include C based libraries within your Swift code, and the basics of using a C library within Swift code.
Specifically the tutorial covers:
- Creating a bridging header in Xcode
- Creating a module map for using the library in frameworks
- Using a C library in Swift using the common crypto as an example
You can find the tutorial over on the Atom Object blog.
A nice guide for those working with C libraries in Swift.
Original article: Tutorial: A Quick Guide To Using C Libraries Within Swift Code
©2015 iOS App Dev Libraries, Controls, Tutorials, Examples and Tools. All Rights Reserved.
February 25, 2015 07:52 PM
There's an official Unreal Engine 4 plugin for the Leap Motion gesture controller out this week that developers can access via the Unreal Engine 4.7 source code repository on GitHub. ...
February 25, 2015 07:12 PM
Humble Bundle has updated its Humble Widget game-selling tool with a host of new features, chief among them the option to offer a demo version of your game that's playable in a browser. ...
February 25, 2015 07:07 PM
"I wanted enemies to circle the players, and not just in a predictable flat y=? plane. No, instead they should fly all sorts of curved paths above and below their targets." Here's how! ...
February 25, 2015 06:28 PM
Oculus VR seeks to entice more developers into making mobile VR games and experiences with its first Mobile VR Jam, a month-long competition that begins April 13th and promises $1 million in prizes. ...
February 25, 2015 06:00 PM
"The visual aura of rich exploding graphics, small wins, orchestra of sounds and melodies creating deep immersion is uncannily similar to the way current match-3 games are turning out to be." ...
February 25, 2015 05:04 PM
Organizers of GDC and the Game Narrative Summit are happy to announce the 2015 Student Narrative Analysis Competition winners, who all receive passes to this year's March conference. ...
February 25, 2015 04:40 PM
"Each year since forming our community, we have seen more new studios appear, more new games published, more relationships strengthened, and more opportunities created for all of our developers." ...
February 25, 2015 04:37 PM
The five-year-old Mixamo online storefront of 3D animations/character models is getting an overhaul in advance of next week's Game Developers Conference. ...
February 25, 2015 03:54 PM
At GDC 2015 next week, Riot Games VP of Game Design Tom Caldwell will break down what the League of Legends company has learned about roguelike appeal in its game design R& D work. ...
February 25, 2015 12:00 PM
Data expert Dmitri Williams delivers the third in a three-part series on prediction and using predictive metrics in the game industry. ...
February 25, 2015 11:49 AM
Gamasutra talks to developer State of Play about its game Lumino City, as part of our Road to the IGF series. ...
February 25, 2015 08:58 AM
Iteration based mobile game designers have taken "minimum viable product" development principles too far, argues developer Joseph Kim. ...
February 25, 2015 08:57 AM
We talk to Supergiant, Galactic Cafe and Hidden Path about what it takes to make a Dota 2 announcer, and how successful it's been. ...
by Mike@gamefromscratch.com at February 25, 2015 04:43 AM
Unreal Engine 4.7 was released today and boy was it a good one.  In their words:
Unreal Engine 4.7 is our biggest release yet, with the power to render huge numbers of instanced objects in large worlds, beautiful rendering of leaves and foliage, HDR texture support, in-editor animation editing, along with hundreds of optimizations and improvements.

Many highly-requested features have been added: You can now assemble new actors using components right in your level, and even create your own custom component types using Blueprint visual scripting or C++! Speaking of scripting, the Blueprint Editor UI has been redesigned with a clean, unified layout. And it's never been easier to import content in your project -- Unreal Editor now detects new asset files and imports them automatically!

HTML5 platform + WebGL is ready to use -- run your game in a compatible browser with a single click! You can also now build, cook and deploy Android devices on Mac. For virtual reality creators, new "VR Preview" feature immerses you in your world instantly from the editor. In addition, you can now access Leap Motion support if you're building a code-based project. Finally, we now give you the full C++ engine source code in every release to make learning and debugging even easier!
Highlights of the update include:
February 24, 2015 09:36 PM
Magic Leap CEO Rony Abovitz shed a bit more light on what sets the "cinematic reality" startup apart from competitors like Oculus VR while taking part in a brief AMA thread today on Reddit. ...
February 24, 2015 08:37 PM
In this classic feature, Will Luton deconstructs the original collectible card game, Magic the Gathering, and the important lessons it holds for today's video game designers. ...
February 24, 2015 08:04 PM
Mortal Kombat maker NetherRealm Studios seeks an experienced artist to take a lead role at the company's Chicago, IL studio and manage a team of character artists. ...
February 24, 2015 07:38 PM
Blizzard is adding microtransactions to Diablo III in select regions via an upcoming patch that will adds (among other things) a new "Platinum" in-game currency that can be purchased for real money. ...
February 24, 2015 06:54 PM
With just over a day left until online registration for GDC 2015 ends on February 25th at 11:59 PM PT, conference organizers are encouraging anyone interested in attending to register now. ...
February 24, 2015 06:42 PM
"Stenography is a different way to input text that uses far fewer keystrokes than traditional typing, and at a far greater speed. Personally, I'm mostly interested in the fewer strokes part." ...
February 24, 2015 06:18 PM
Lionsgate CEO Jon Feltheimer and newly-minted Unity CEO John Riccitiello join Telltale's Board of Directors as the studio cuts a deal with Lionsgate to begin producing game/TV hybrid "Super Shows." ...
February 24, 2015 06:15 PM
"A lot of this advice makes GDC seem like a bummer. It wasn't for me, and I hope it won't be for you. But it is an exhausting and overwhelming week. You will feel incredible highs and incredible lows." ...
February 24, 2015 05:11 PM
GM of GDC events and all-around Boss Lady Meggan Scavio takes a moment to detail the official code of conduct for GDC and all of its related events. ...
by noreply@blogger.com (Sande Chen) at February 24, 2015 04:37 PM
In partnership with the Game Developers Conference, the
IGDA
and IGDA Game Design SIG are pleased to hold our roundtable Wednesday, March 4, 2015 at 11 AM in Room 111, North Hall.
Join us to discuss how our SIG can better help you. We will talk about how to better share questions, ideas, and information and what new fields we can include in our group discussions. Comments and suggestions this early would be appreciated if you want anything else in particular covered in the roundtable. A GDC pass (at least an EXPO Pass) is required so you may enter the premises. This session is right before the lunch break so we can continue the discussion over lunch. Independent developer
Howard Dy Go
will be moderating.
Event Link:
http://www.eventbrite.com/e/igda-game-design-sig-roundtable-gdc-2015-tickets-15658961375?aff=estw
In addition, we will be having a Social Gathering, open to all (no GDC pass required) at the IGDA booth (usually located in the lobby; ask for directions) on Tuesday, March 3, 2015 at 4:00 - 4:30 PM. This social meeting is scheduled during a break between conference sessions. If you're there for the Summits only, this would be an opportune time to meet up with other game designers.
Event Link:
https://www.facebook.com/events/427479910732550/
(through Game Design SIG group)
https://www.facebook.com/events/937400352945362/
February 24, 2015 04:09 PM
A short, personal history of Humongous Entertainment and a look inside the development of cancelled project Moonbase -- a fascinating project that never saw the light of day. ...
February 24, 2015 02:53 PM
The 2015 Game Developers Conference is next week! Today, show officials are highlighting a few more noteworthy Summit sessions that you should keep on your radar as you prepare for the show. ...
February 24, 2015 02:35 PM
Can two MMO veterans save the genre from itself? That's the question that drives Crowfall, the title from Gordon Walton and J. Todd Coleman that seeks to "upset the applecart" of the genre. ...
February 24, 2015 12:03 PM
People are bored, so why not? Here's how one dev did it: "If you're part of a small team and working on a mobile game (or app), playtesting at the DMV can be very productive." ...
February 24, 2015 09:02 AM
"After playing Rust, H1Z1, and DayZ, I found some constant issues with the genre," writes Alex Nichiporchik. And in this post, he lays out the problems -- and the solutions. ...
February 24, 2015 09:01 AM
We talk to Chris Bourassa and Tyler Sigman of Red Hook Studios about the difficulty of Darkest Dungeon, and why they want their narrator to compound defeat by insulting the player. ...
by Timothy Lottes (noreply@blogger.com) at February 24, 2015 03:45 AM
February 24, 2015 12:26 AM
The way that you deliver a game -- how you package it up and get it into the hands of your audience -- is critical to defining an exceptional game experience. How will your experience keep them coming back for more? ...
February 23, 2015 11:07 PM
Next week, the company is going to take the wraps off of its long-awaited hardware initiatives -- and devs are invited to join in. ...