February 09, 2016 10:23 PM
WhitestormJS is based on the Three.js engine, which is made for developers who need a useful wrapper arou...
February 09, 2016 10:08 PM
The development of the upcoming MOBA, currently in beta, appears to be in danger -- as the developer lays off staff and seeks funding to complete the game. ...
February 09, 2016 09:38 PM
The embattled peripheral maker, which shed a large number of executives yesterday, is making deep cuts across the board. ...
by Mike@gamefromscratch.com at February 09, 2016 08:38 PM
Today Amazon launched the Lumberyard Game Engine a modified and completely open source version of the CryEngine from Crytek. Free. So, what's the catch? You have to run your server component either on your own server or using Amazon's web services. Yeah, that's it. A pretty sweat deal all around. So today I took a quick look at the contents of the engine as you can see below or in the video available at the bottom of this page. I have only a couple hours experience with the engine, so don't expect an in-depth review, this is just a quick hands on to give you an idea of what Lumberyard is and what you get.
Lumberyard installs as a 10GB zip file. Simply extract the contents of that archive to folder on your system. It's contents look like:
Next run LumberyardLauncher.bat and you get this initial configuration window:
It unfortunately does not seem to play nice with high DPI displays :(. Check all the features you require then click the next error. You will then be informed what software you need to install:
Thankfully (for my cellular bill at least!) each component already appears to be locally available. Next it's going to ask you for a variety of SDKs. Most of them are optional, such as Photoshop, Max and Maya plugin SDKs, but some are not such as NVidia and PowerVR SDKs. Annoyingly, some of these require registering an account to download. Both SDKs are small downloads, the the PVRTextTool will download 100+MB of files.
Finally you will be asked which plugins you wish to configure, and we are finally done the configuration phase. Now simply click Configure Project to create a new Project:
This will launch the Lumberyard Project Configurator tool:
For now I'm simply going to click Launch Editor for the SamplesProject project. Now we wait...
Ugh, another login:
Finally!
The Getting started guide link doesn't work right now. Instead use the URL https://aws.amazon.com/documentation/lumberyard/ to access the documentation.
I'm going to go ahead and create a new level.
Straight forward so far.
And finally the Lumberyard editor:
Again, high DPI support isn't great as you can see from the cropped menu panel across the bottom. Let's take a look at a some of the included tools.
Terrain Editor
Asset Browser
Flow Graph (Visual Scripting)
Dialog Editor
Geppetto (Animations)
Database View
UI Editor
Obviously this is only a very surface level look at some of the tools that are bundled in the Lumberjack Game Engine. It certainly has me interested in learning more. If you are interested in seeing tutorials for this game engine, let me know and I will dive in deeper. Even if I don't create a tutorial series, I will certainly review this game engine in the typical "Closer Look" style.
There is a quick video hands on available, embedded below or in 1080p here.
February 09, 2016 08:34 PM
"YOU ACKNOWLEDGE AND AGREE THAT ANY INFORMATION YOU SEND OR RECEIVE DURING YOUR USE OF THE SITE MAY NOT BE SECURE AND MAY BE INTERCEPTED OR LATER ACQUIRED BY UNAUTHORIZED PARTIES," the new TOS reads. ...
February 09, 2016 07:57 PM
The cheapest bundle, including headset, will set buyers back $1499, as the launch of the much-anticipated headset draws near. ...
February 09, 2016 07:14 PM
The company best known for enhanced remakes of BioWare games now appears poised to leap into more original products, with the offical blog saying Gaider will "direct new creative endeavors." ...
by Wolfgang at February 09, 2016 07:07 PM
We are helping with Amazon Lumberyard:
February 09, 2016 06:51 PM
"Pony Island appeared to reach outside of those confines, out into the real world, into the world of my friends. The game scared me in ways that no game has ever scared me before." ...
February 09, 2016 06:15 PM
Kristian Segerstrale, COO and executive director of Super Evil Megacorp, will share some lessons learned from the development and promotion of the studio's standout mobile MOBA Vainglory at GDC 2016. ...
February 09, 2016 06:01 PM
"We're going to run down a list of some of the techniques existing games have used to promote a sense of player-involvement in story. We'll start by looking at a few variants on the Path Structure." ...
February 09, 2016 05:20 PM
Want to include encrypted text in your game? This highly technical how-to spells out everything you need, complete with programming code and font examples. ...
February 09, 2016 05:19 PM
Beyond Good & Evil designer Michel Ancel sat down with Double Fine's Tim Schafer and Greg Rice to wax lyrical about the open-world adventure game 13 years after it made its PlayStation 2 debut. ...
by Mike@gamefromscratch.com at February 09, 2016 05:14 PM
In the first tutorial we looked at installing Superpowers, running the server and creating our first project. In the next tutorial we got to know the editor, the relationship of Actors and Components and finally created a camera for our game. In this tutorial we are going to draw a sprite on screen, then a sprite sheet which will enable animation. So without further ado, let's jump in.
There is one more important part of the relationships in Superpowers to understand. As we've seen already, our Scene is composed of Actors, which in turn are made up of Components. Components however can have Assets. Assets on the other hand are NOT part of the Scene. They actually exist at the same level as the Scene and can be used in multiple scenes. Assets are declared on the left hand side of the interface.
Adding a Sprite to Your Game
On the left hand side of the screen click the page with a plus sign icon (the same we used to create the scene):
In the resulting dialog, select Sprite:
The sprite options will now be available in the inspection window on the right hand side of the screen. In that window, select Upload and navigate to the image file you are going to use for your game. We sure to use a web friendly format such as JPG or PNG. Then set the grid size to the same dimensions as the Texture Size, like so:
You could also modify the pivot point of the sprite by changing the origin position. The default of 50% will put the pivot point in the middle of the sprite, so this is the point the sprite will be drawn and transformed relative to. You can also configure the opacity, how the sprite is rendered, etc. The Grid Size parameter is used when you have multiple sprites in a single texture, which we will use later.
Adding a Sprite Component
Now that we have a sprite asset available in our game, let's add one to our scene. First on the left hand side, or using one of the tabs across the top of the editor, select your Scene. Next create a new Actor, just like we covered in the previous tutorial, name it sprite or something similar. Finally click the New Component button and select Sprite Renderer, then click Create:
Now there should be a SpriteRender component available. From the Asset window on the left side of your screen, drag the sprite you added to the Sprite field of the Sprite Renderer in the Inspector, like so:
Tada, we've added a Sprite to our game world and it should now show up in the View in the center of your screen:
The sprite can be positioned using the transform widget, or directly in the Transform component on the right.
Running Your Game
Now that we've got a camera and something on screen, let's take a moment to actually run our game. There is a small amount of configuration we need to do. On the left hand side of the screen, locate the "Settings" link, click away!:
In the resulting form, select your scene as the starting scene(via drag and drop):
We have one final task to perform. Our Camera and our Sprite are both at the same Z location, meaning that at least initially, nothing will be in the view of the camera. You have one of two options, you can either position all of your sprites at a –z location, or you can move your camera to z=1. The later is the easier option, so I will go that route. Select your camera actor, it's transform component and set the Z value to 1:
Now we press either Play or Debug in the top left menu. The debug option will load Chrome with the developer tools enabled, making it possible to detect errors in your code. The Play option will run it in the Superpowers player. Either way, we should see:
Congratulations on your first successful game!
Using a Spritesheet
Now let's take a look at how we can used multiple sprites in a single texture, often known as a spritesheet. I'm using this simple 3x1 sprite sheet:
Add it as an asset like we did earlier. This time however, after we upload the image, we want to configure the grid size using this button:
When prompted enter the number of rows (1) and columns (3) in your image, or simply enter the width and height of each frame of animation in the text boxes. Now lets create a new animation named walked. Simply click the New button under animation, name it walk. Then in the settings we set (I believe, the UI does not make it obvious), the first frame of the animation, the length and the number of frames to step by. I also set the animation speed to 3 frames/sec meaning our 3 frames on animation will play once per second.
And the end result:
Ignore the twitch, that's just me capturing the animated gif at the wrong end point.
February 09, 2016 05:01 PM
The Indie MEGABOOTH Showcase is coming back to GDC 2016 with a lineup of 15 interesting indie games that all conference attendees can play, including We Are Chicago and Elsinore. ...
February 09, 2016 04:31 PM
"My design process became more about stopping iteration. It was about accepting Yarny was finished and resisting the urge to change it. It just felt wrong." ...
February 09, 2016 04:08 PM
Bandai Namco has posted its financials for the nine month period ending December 31, and both sales and profits are on the up.  ...
February 09, 2016 03:46 PM
Changes in HWiNFO32 & HWiNFO64 v5.20 - Released on: Feb-9-2016:
Fixed monitoring of total/NAND reads/writes for some SanDisk drives.
Extended NVMe S.M.A.R.T. status and fixed total ...
February 09, 2016 03:37 PM
[td...
February 09, 2016 03:31 PM
This beta version driver is provided to confirm pending driver code changes that address numerous reported game play issues. A list of issues addressed is below. A production version driver will follow in a few weeks, if the...
February 09, 2016 02:23 PM
"I completely stopped looking at an iPhone as a touch screen device and started looking at it as a magic little box full of possibilities." ...
February 09, 2016 01:47 PM
Rovio is attempting to shed even more weight by spinning off its books business with the creation of new affiliate company, Kaiken Publishing. ...
by Mike@gamefromscratch.com at February 09, 2016 01:09 PM
Not every day that there is a new player in the AAA game space, but that's exactly what just happened with the release of Lumberyard by Amazon. Amazon has been getting more and more involved with gaming with the launch of their own game studio coupled with their purchased of Double Helix games back in 2014. Their cloud computing solution, AWS (and more specifically EC2 and S3) have both proven incredibly popular with game developers, providing the networking back end for companies such as Rovio and Ubisoft. Today however they just made a much bigger splash with the release of a complete game engine, Lumberyard.
Now Lumberyard isn't actually a brand new engine, in fact it appears to be a mashup of a number of technologies including CryEngine, in house tools created by Double Helix Games and cloud services from AWS, specifically the new Amazon Gamelift service, which is described as:
Amazon GameLift, a managed service for deploying, operating, and scaling session-based multiplayer games, reduces the time required to build a multiplayer backend from thousands of hours to just minutes. Available for developers using Amazon Lumberyard, Amazon GameLift is built on AWS's highly available cloud infrastructure and allows you to quickly scale high-performance game servers up and down to meet player demand – without any additional engineering effort or upfront costs.
Lumberyard will also feature Twitch integration, and perhaps most interestingly, launch with support, both in forum and tutorial form but also in a paid form, something that is often lacking. Lumberyard tools only run on Windows 7,8 and 10, while the supported targets at launch are Windows, PS4 and Xbox One. Of course a developer license is required to target either console. About the technical bits of Lumberyard:
The Lumberyard development environment runs on your Windows PC or laptop. You'll need a fast, quad-core processor, at least 8 GB of memory, 200 GB of free disk space, and a high-end video card with 2 GB or more of memory and Direct X 11 compatibility. You will also need Visual Studio 2013 Update 4 (or newer) and the Visual C++ Redistributables package for Visual Studio 2013.

The Lumberyard Zip file contains the binaries, templates, assets, and configuration files for the Lumberyard Editor. It also includes binaries and source code for the Lumberyard game engine. You can use the engine as-is, you can dig in to the source code for reference purposes, or you can customize it in order to further differentiate your game. The Zip file also contains the Lumberyard Launcher. This program makes sure that you have properly installed and configured Lumberyard and the third party runtimes, SDKs, tools, and plugins.

The Lumberyard Editor encapsulates the game under development and a suite of tools that you can use to edit the game's assets.

The Lumberyard Editor includes a suite of editing tools (each of which could be the subject of an entire blog post) including an Asset Browser, a Layer Editor, a LOD Generator, a Texture Browser, a Material Editor, Geppetto (character and animation tools), a Mannequin Editor, Flow Graph (visual programming), an AI Debugger, a Track View Editor, an Audio Controls Editor, a Terrain Editor, a Terrain Texture Layers Editor, a Particle Editor, a Time of Day Editor, a Sun Trajectory Tool, a Composition Editor, a Database View, and a UI Editor. All of the editors (and much more) are accessible from one of the toolbars at the top.

In order to allow you to add functionality to your game in a selective, modular form, Lumberyard uses a code packaging system that we call Gems. You simply enable the desired Gems and they'll be built and included in your finished game binary automatically. Lumberyard includes Gems for AWS access, Boids (for flocking behavior), clouds, game effects, access to GameLift, lightning, physics, rain, snow, tornadoes, user interfaces, multiplayer functions, and a collection of woodlands assets (for detailed, realistic forests).

Coding with Flow Graph and Cloud Canvas
Traditionally, logic for games was built by dedicated developers, often in C++ and with the usual turnaround time for an edit/compile/run cycle. While this option is still open to you if you use Lumberyard, you also have two other options: Lua and Flow Graph.

Flow Graph is a modern and approachable visual scripting system that allows you to implement complex game logic without writing or or modifying any code. You can use an extensive library of pre-built nodes to set up gameplay, control sounds, and manage effects.

Flow graphs are made from nodes and links; a single level can contain multiple graphs and they can all be active at the same time. Nodes represent game entities or actions. Links connect the output of one node to the input of another one. Inputs have a type (Boolean, Float, Int, String, Vector, and so forth). Output ports can be connected to an input port of any type; an automatic type conversion is performed (if possible).

There are over 30 distinct types of nodes, including a set (known as Cloud Canvas) that provide access to various AWS services. These include two nodes that provide access to Amazon Simple Queue Service (SQS), four nodes that provide access to Amazon Simple Notification Service (SNS), seven nodes that provide read/write access to Amazon DynamoDB, one to invoke an AWS Lambda function, and another to manage player credentials using Amazon Cognito. All of the games calls to AWS are made via an AWS Identity and Access Management (IAM) user that you configure in to Cloud Canvas.
Finally we come to price. Lumberyard is free*. I say free* instead of free because of course there is a catch, but an incredibly fair one in my opinion. If you use Lumberyard you either have to host it on Amazon servers or on your own. Basically you can't use Lumberyard then host it on a competitor such as Azure or Rackspace. Pricing is always a bit tricky when it comes to Amazon services, but unlike Google, they have never once screwed their user base (Google once jacked up prices by an order of magnitude, over night, forever souring me on their technology), so you are pretty safe in this regard. More details on pricing:
Amazon GameLift is launching in the US East (Northern Virginia) and US West (Oregon) regions, and will be coming to other AWS regions as well. As part of AWS Free Usage tier, you can run a fleet comprised of one c3.large instance for up to 125 hours per month for a period of one year. After that, you pay the usual On-Demand rates for the EC2 instances that you use, plus a charge for 50 GB / month of EBS storage per instance, and $1.50 per month for every 1000 daily active users.
I intend to look closer at the Lumberyard game engine as soon as possible, so expect a preview, review or tutorial shortly.
February 09, 2016 12:01 PM
Candid game development costs and sales stats, as well as a breakdown on player behavior, piracy, and lessons for the future: it's all here, served up by Dead in Bermuda devs. ...
February 09, 2016 09:00 AM
"eSports is essentially a spectator sport. So, for eSports to really explode, focus needs to change from the 'best-of-the-best' to the common competitor." ...
February 09, 2016 09:00 AM
"People go to Wyoming because they're captivated by the beauty and the aloneness. Growing up there creates a certain feeling inside you that you don't really get rid of for the rest of your life." ...
February 09, 2016 08:11 AM
Mobygames stats released on January 15 2016: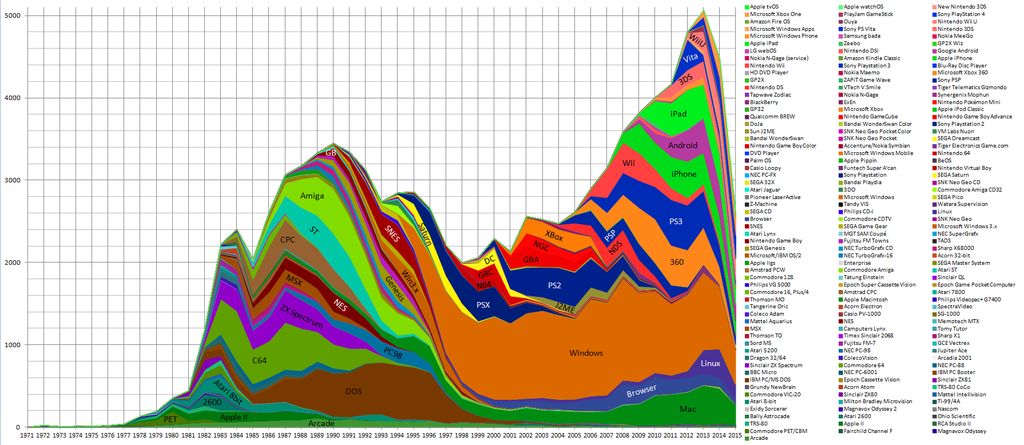 Source: http://www.mobygames.com/forums/dga,2/dgb,3/dgm,216724/
February 09, 2016 08:01 AM
Built using CryEngine's tech and completely free to download and use, this new engine -- which can currently deploy products on PC, PlayStation 4, and Xbox One -- is powered by Twitch and Amazon Web Services. ...
February 09, 2016 01:14 AM
GameTrailers announced today via its Twitter account that the video game video hub is shutting down, over a year after it was sold to Defy Media by Viacom in a layoff-ridden 2014 deal.  ...
February 08, 2016 10:01 PM
Elder Scrolls Online developer Zenimax Online Studios seeks to hire an experienced sound designer to work alongside the team at its studio in Rockville, Maryland. ...
February 08, 2016 09:45 PM
How do you get people to go watch your video game movie? If you're Dofus developer Ankama, you take a page from Kickstarter and tie tiers of in-game rewards to movie ticket sales milestones. ...
February 08, 2016 08:56 PM
Change is in the wind at video game peripheral maker Mad Catz, as president and CEO Darren Richardson, senior VP of business affairs Whitney Peterson and company chairman Thomas Brown have resigned. ...
February 08, 2016 08:36 PM
How do you keep players interested? "Combining both short and long-term progression provides the best combination of progression models to keep someone engaged in your title." ...
February 08, 2016 08:15 PM
The 48th installment in a series of tutorials dedicated to promoting modern OpenGL development, with a focus on version 3.x and beyond. This tutorial demonstrates how to integrate the Ant Tweak Bar library in an OpenGL application in order to create a user interface.
February 08, 2016 08:12 PM
Campo Santo team members Nels Anderson and Jake Rodkin speak at length about how Firewatch is being designed to tell a story and allow meaningful player exploration/choice -- without combat. ...
February 08, 2016 07:23 PM
Over 2,000 devs surveyed in GDC's State of the Industry survey answer the vague question: "Is there anything else you'd like to say about the game industry?" As you can imagine, it gets quite heated. ...
February 08, 2016 06:52 PM
'Developing in Early Access is like working while naked in a transparent cube suspended above Times Square. But Darkest Dungeon is a stronger game for having gone through it.' ...
February 08, 2016 06:48 PM
Respawn is reportedly trying its hand at a single-player campaign and a TV spin-off for Titanfall 2, according to comments made by lead writer Jesse Stern in an interview with Forbes. ...
February 08, 2016 06:04 PM
This post gets deep into world generation technique: "A heat map defines the temperature of our generated world. The heat map we are going to create will be based on latitude and height." ...
February 08, 2016 05:48 PM
Beneath the humor and disembodied white gloves of Owlchemy Labs' Job Simulator 2050 is a virtual reality game that incorporates some seriously solid VR interaction design fundamentals. ...
February 08, 2016 05:24 PM
Learn about Vulkan, the new graphics and compute API directly from Khronos, the people who are creating it. In this 1-hour session, we will talk about the API, and go into details about the Vulkan SDK from LunarG, and much more. Register today!
February 08, 2016 05:23 PM
"I've decided to sit down and rant a bit on why it's so hard to define this genre, and also why it's a genre that sometimes end restricting its games. Some of it will be obvious, but I hope to offer some decent insights." ...
February 08, 2016 05:05 PM
Paradox Interactive senior game designer Chris King is going to delve into the tricky balancing act that comes with making games about historical events at GDC 2016. Don't miss it! ...
February 08, 2016 05:02 PM
"Street Fighter II enthralled me just as it did to so many others. If there had been no SF2, I would not have been here today as a pro gamer." ...
February 08, 2016 04:58 PM
California-based virtual reality startup Wevr has received $25 million from investors including HTC and Samsung to further develop its independent VR distribution platform, Transport.  ...
February 08, 2016 04:57 PM
"Four PC games, League of Legends, Counter-Strike: Global Offensive, DotA 2 and Hearthstone, are literally dwarfing the competition on Twitch." ...
February 08, 2016 04:35 PM
Sangokushi 13

latest iteration of Romance of the Three Kingdoms

Ridiculous clipping bugs and unplayable...
February 08, 2016 03:56 PM
"I'm fascinated by all the things that lead up to people making up pastimes, toys and time-wasters generally referred to as 'games.' That includes where they live, who they associate with, how they regard themselves and each other." ...
February 08, 2016 03:13 PM
"For the financial strength of the company we need to focus on a few products in the near term that have the ability to get to a retail release before Unsung Story is able to." ...
February 08, 2016 02:11 PM
An iOS port of psychological-horror shooter The Binding of Isaac: Rebirth has been rejected by Apple due to its depiction of violence towards children.  ...
by Mike@gamefromscratch.com at February 08, 2016 01:27 PM
This story coming care of /r/gamedev, BDX released version 0.2.3. BDX is a game engine hosted inside Blender using LibGDX and Java for game programming. Essentially it enables you to define and create your game in Blender, including complete physics integration, while generating LibGDX code. I did a pretty in-depth tutorial on working with BDX a while back.
In this release:
Here's a short change-log:

Per-pixel sun, point, and spot lighting. As it was before, you can simply create the lights in Blender to have them show up in-game, or spawn them during play.
Ability to turn off per-pixel lighting for lower-spec targeted platforms and devices.
Improvements to the profiler.
GameObjects can now switch the materials used on their mesh. You can specify the name of a material available in the scene in Blender, or you can directly provide a LibGDX material to use, in case you have one custom-made.
Various fixes and QOL improvements.

Check it out! We could always use some more feedback and testing.
It's a cool project and if you are working in Blender and LibGDX is certainly something you should check out!
by Mike@gamefromscratch.com at February 08, 2016 01:17 PM
The road map for the Atomic Game Engine, which we looked at late last year, was just released and highlights upcoming developments for the engine.
2016 Roadmap

DISCLAIMER: As with most roadmaps, this one is subject to change. This is a snapshot of current planning and priorities, things get moved around, opportunities happen, etc. It is also not "complete"

New WebSite - We need a new website, badly. The main page and landing video have not been updated since the initial March 4th Early Access!
New User Experience, documentation and tutorial videos
Improved iOS/Android deployment with support for shipping on App Store/Google Play. We also plan on publishing a mobile iOS/Android example
Continued work on editor asset pipeline, scene editor, etc
WebGL improvements, there is a lot going on currently with WebGL and we need to update the build and provide a means to communicate with the page JavaScript
Script debugging with breakpoints, callstacks, locals, etc, including on device
First class TypeScript support with round trip code editing, compiling, debugging
Basic Oculus Rift support (Q2)
Multiple top level windows for the Atomic Editor
Improvements to the new Chromium WebView API
Examples, examples, examples, including a bigger "full game" example
Animation Editor
Evaluate lightmap generation with Blender cycles
The things that need to happen, or are under NDA, and are not listed on this roadmap :)
In addition to the roadmap, a thorough history of the engine and the company people it are available here.
February 08, 2016 12:01 PM
"We all want to make games played by YouTubers. That's only reasonable, given the role that YouTube has in game publicity in 2016. But what technical and aesthetic choices can we make to get the most out of their play sessions?" ...
February 08, 2016 09:02 AM
Defender's Quest developer Lars Doucet on what Valve's getting right: "The games you see on your front page now depend mostly on you. And that's as it should be." ...
by DEADC0DE (noreply@blogger.com) at February 07, 2016 04:24 PM
February 07, 2016 02:49 PM
Elephant

Signed distance field raymarching. Procedural elephants. Or a bunch of ellipsoids and few lines and a couple of quadratic curves. Split it in layers to prevent the compiler from crashing....
by DEADC0DE (noreply@blogger.com) at February 06, 2016 04:21 PM
Heavy barrel distortion, from the Bridge of Spies trailer. Anamorphic lenses?
Dying light shows one of the heavier-handed CA in games
Notice how little "in your face" post-fx are in a typical Pixar movie...
A colorist applying a mask
Katana, a look development tool.
by DEADC0DE (noreply@blogger.com) at February 06, 2016 04:21 PM

An introduction to what is like to be a rendering engineer or researcher in a AAA gamedev production, and why you might like it. Written for a guest lecture to computer graphics undergrads at University of Victoria.

As most people don't love when I put things on scribd, for now this is hosted from my dropbox.

https://dl.dropboxusercontent.com/u/6809780/BLOG_HOSTING/AP%20Guest%20Lecture.pdf
by DEADC0DE (noreply@blogger.com) at February 06, 2016 04:21 PM
by DEADC0DE (noreply@blogger.com) at February 06, 2016 04:21 PM
How consciously do we navigate this?

Knowledge vs Prototyping
Width vs Depth of exploration
Speculation is "fast" to move but with uncertainty
Application focuses and finds new constraints, but it's expensive

Multidimensional and Multiobjective
Fuzzy/Noisy, Changing over time
We are all optimizers

We keep a model of the design landscape, updated by information (experiments, knowledge). Biased by our psychology
We try to "sample" promising areas to find a good solution
Similar to Bayesian Optimization (information directed sampling)
Bayesian Optimization. Used in black-box problems that
have a high sampling (evaluation) cost.